Price development in the paper and packaging industry
07.03.2023 |
Lasse Harder
| Packaging
This is how inflation, logistics costs and raw material prices impact
TREND: INCREASING
The reasons are diverse, but the development is clear: The paper and packaging industry has been confronted for some time with drastically rising prices for raw materials, logistics and other areas. Supply bottlenecks even threaten to bring production to a standstill. At the same time, demand for many paper and packaging products is higher than ever. Especially in the area of shipping boxes and folding boxes (corrugated board and solid board), there are more and more material-related production losses.
FROM STRUCTURAL CHANGE TO THE PANDEMIC
The current situation for printers, publishers, packaging manufacturers and many others could be briefly and succinctly broken down to the following: Raw materials - i.e. paper, cardboard and pulp - are in short supply, which is why prices are rising.

In fact, according to the Federal Statistical Office, it is enormous:

In wholesale, mixed waste paper cost more than three times more in September 2021 than in the same month a year earlier - an increase of 222.4 percent.
The picture is similar for import prices: for waste paper they increased by 75 percent and for pulp by 45.7 percent in the same period.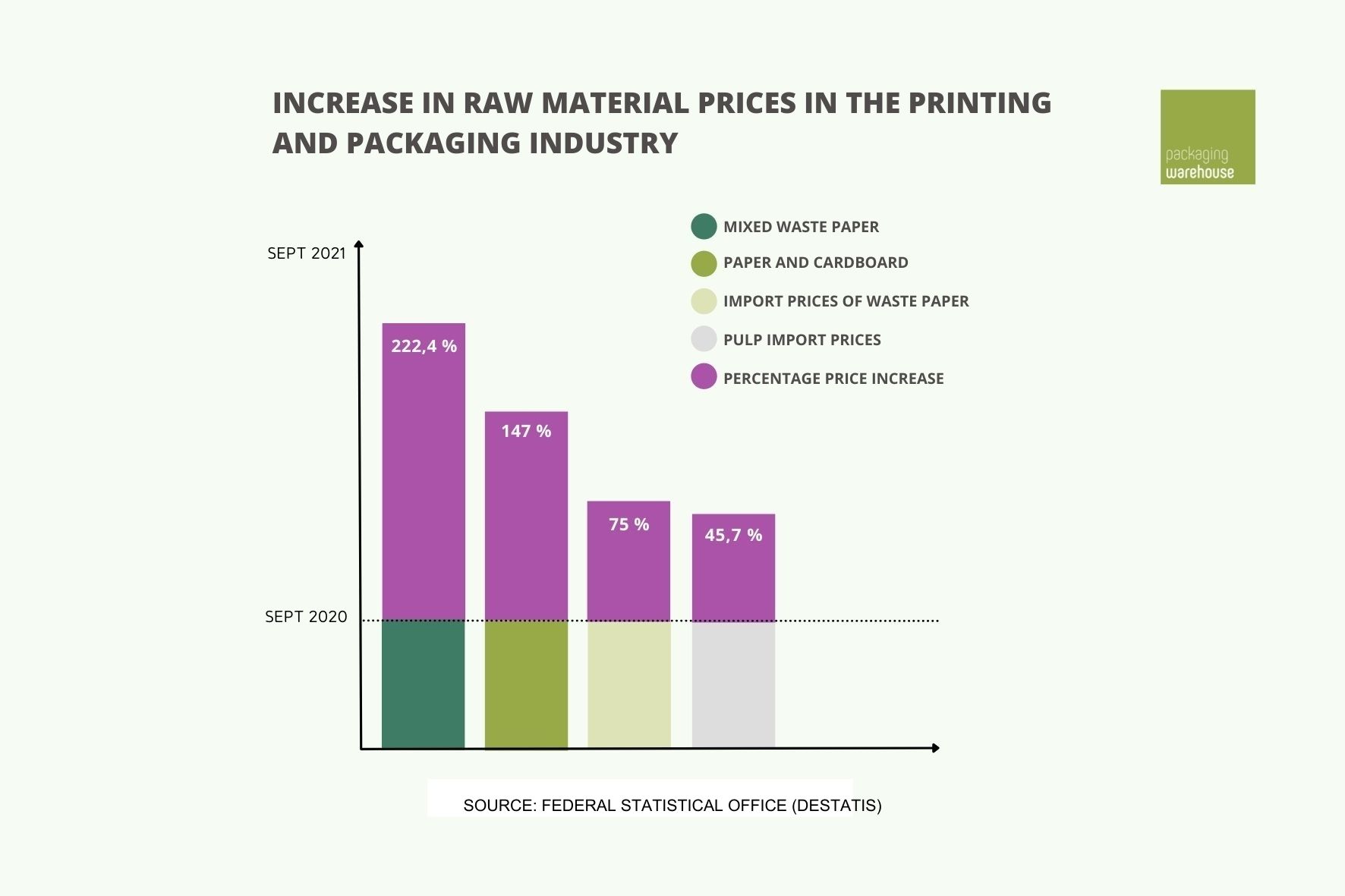 THERE ARE VARIOUS REASONS WHY THE URGENTLY NEEDED RAW MATERIALS ARE NOW IN SUCH SHORT SUPPLY:
1) Pandemic
The dislocations of the Corona pandemic within the industry are shown in many ways. Fewer advertisements and brochures in newspapers, for example, mean that there is less waste paper.
To this end, production capacities had to be cut back in many cases. This has also contributed to a shortage of raw materials. Supply chains and commodity cycles have been permanently disrupted as a result, and the effects are still continuing.
2) Structural change
The structural change in the industry cannot be viewed in isolation from the pandemic. Because of the falling demand for graphic paper for print products, many companies switched to other products - such as corrugated board. Demand for this has increased significantly, not least due to a boom in online retailing. As a result, there is currently a lack of capacity for the production of graphic paper. Another side effect of this development is that the proportion of cardboard in waste paper is often too high to produce graphic paper from it.
3) Rising costs
In addition, it is not only the prices for waste paper and similar raw materials that have risen sharply. Similar trends can also be noted in the area of logistics.Here, the necessary shipping containers for sea trade are in such short supply that the costs for this were temporarily four times higher than in the previous year.
And rising energy costs are also likely to have an impact - for many member companies of the Paper and Film Packaging Industry Association, probably in 2022 or 2023, when long-term supply contracts expire.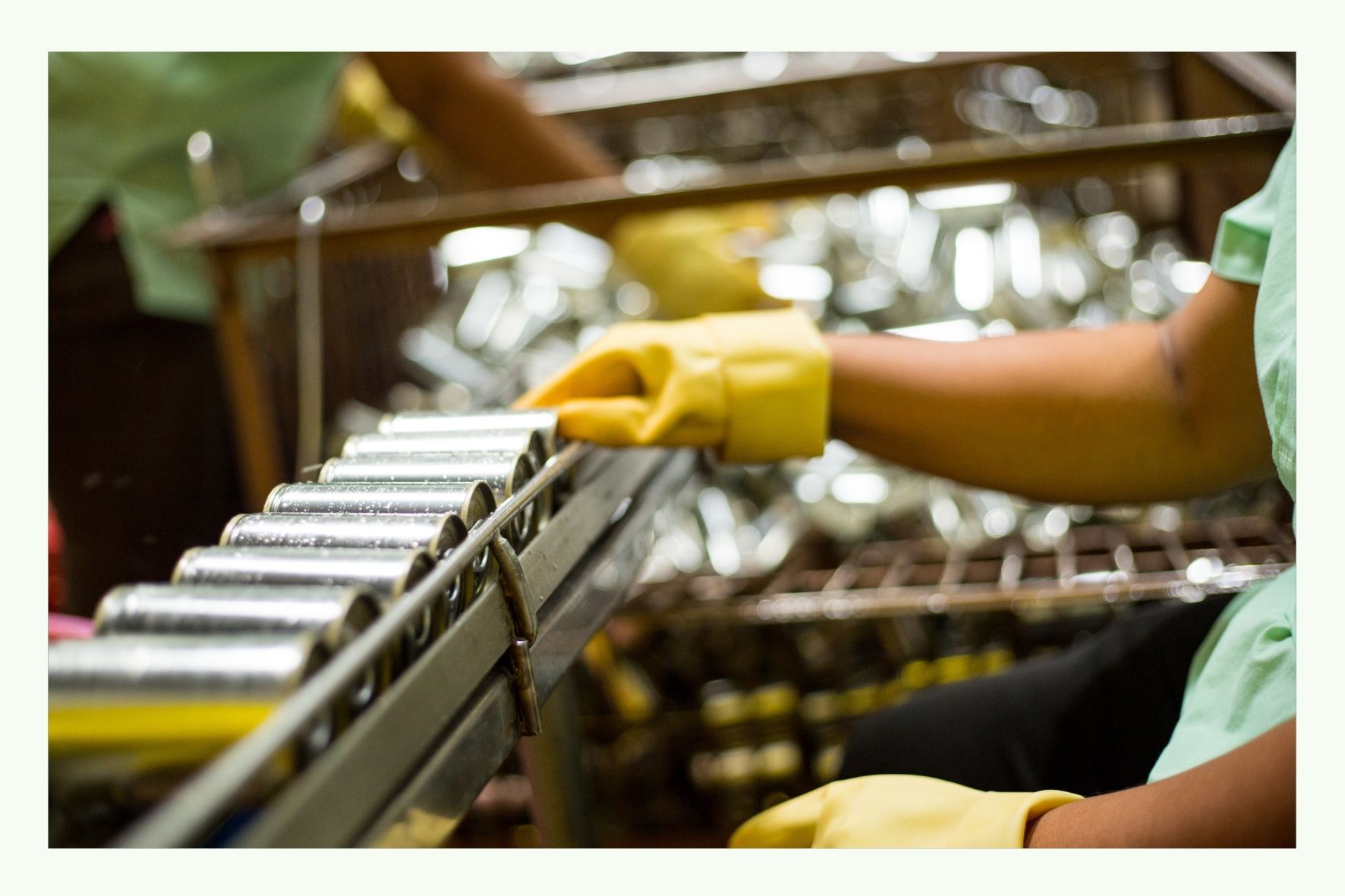 WHERE THE DEVELOPMENTS ARE PARTICULARLY NOTICEABLE
The portal ,,neue verpackung" has collected data from the Federal Statistical Office for various packaging raw materials in order to track the price development of the past years. Similar trends can be seen throughout:

For all raw materials for packaging, the trend has been continuously rising since September 2020. This applies to paper, cardboard, corrugated board base paper and plastics.
Corrugated paper and cardboard as packaging materials are, to a certain extent, an exception here, as prices for these products hardly fell at all in the period under review (from 2018 to summer 2021) and a significant increase in prices can only be observed since the beginning of 2021.
In the long term, this development is unlikely to slow down so quickly. This is because the problem of raw material shortages will remain in many areas of the industry for the time being. Solid board, corrugated board and recycled packaging from the two packaging materials are, after all, made from 100 percent waste paper - and that is hard to come by despite full order books.
GOOD PROSPECTS FOR THE FUTURE?
Nevertheless, forecasts for the future remain difficult. The German Printing and Media Industries Federation (BVDM), for example, is currently ( November 2021) reporting a decline in company expectations. Although many companies assess their business situation more positively than in September 2021, they continue to take a critical view of material shortages, skills shortages and energy costs in the coming months. Nevertheless, production capacity utilization is higher than at any time since October 2017. However, it will be necessary to overcome the production obstacles mentioned above.