Italy 2023: New obligation to label packaging
23.06.2023 |
Birgit Brüggehofe
| Nature and environment


New obligation to label packaging in Italy
It has been postponed again and again, but now the time has come: On January 1, 2023, mandatory environmental labeling will come into force in Italy. Decree No. 116 obligates all actors along a supply chain to label packaging materials. What is the aim of the decree, how does the procedure work? And what should you look out for when making deliveries to Italy in the near future?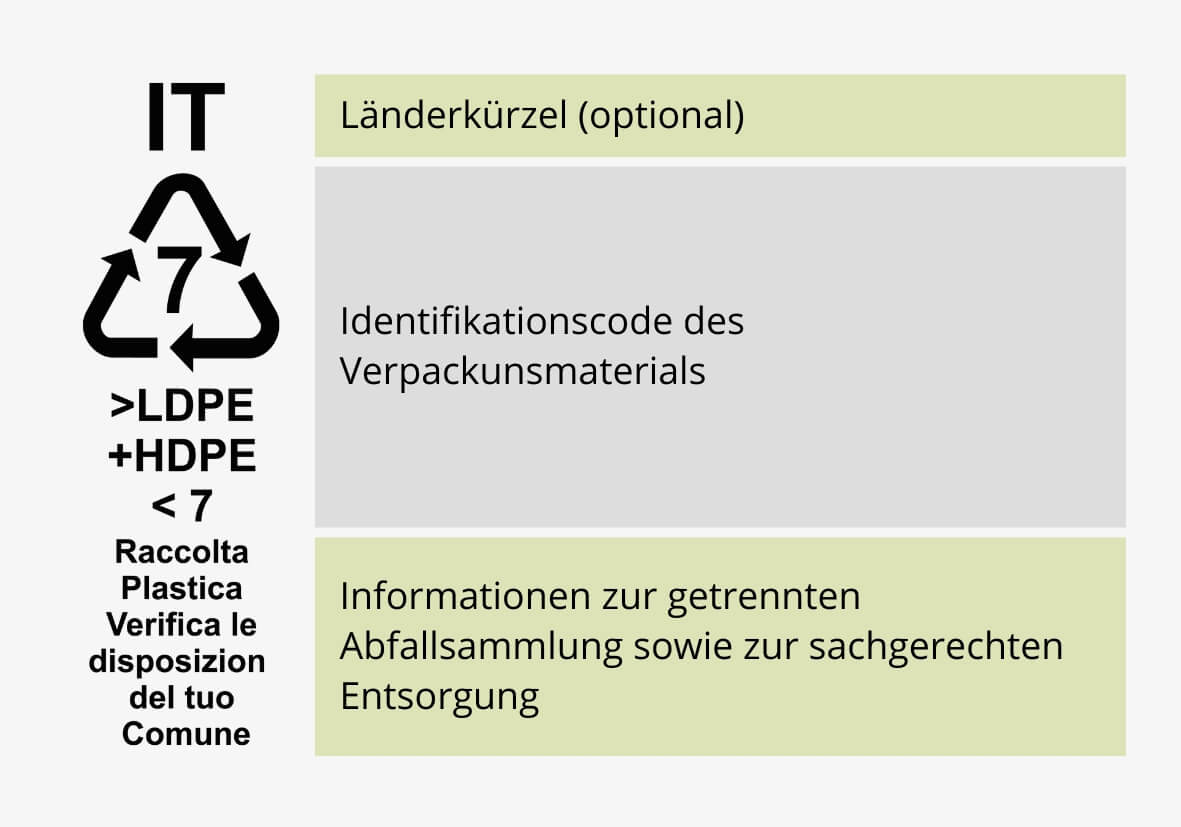 What is the new environmental label for Italy?
Two main aspects play a role: First, manufacturers of packaging must mark the material of the packaging as an alphanumeric code according to 97/129/EC. You can find the right alphanumeric code for your packaging in our lexicon for recycling codes. Secondly, packaging for end consumers must show clear instructions on how to dispose of a package - in Italian.

According to the recommendation of the Italian Consortium for Packaging Materials (CONAI), a packaging label should contain the following information:
Identification code of the packaging material
Information on separate waste collection as well as proper disposal
Accordingly, a package carries two possible indications:
Raccolta (= collection), Famiglia di materiale (= material), so e.g. Raccolta cartone (= waste paper collection) or Raccolta plastica (= plastic collection).
or: Raccolta differenziata + Verifica le disposizioni del tuo Comune, a reference to separate waste collection; the consumer is asked to find out about the regulations in force in his municipality - useful for packaging that has more than one material component.
What changes with the regulation on environmental labeling in Italy?
The labeling obligation for Italy is coming. The environmental labeling requirement, enacted by Legislative Decree No. 116/2020 on Sept. 3, 2020, was suspended first for 2021, then until June 30, 2022, and finally until Dec. 31, 2022. Now, online retailers must specially mark the material of packaging that goes to Italy - according to environmental standards. Producers are also required to indicate the type of packaging material used, based on Decision 97/129/EC, to enable its correct identification and classification. How was it before? Previously, certain packaging for third countries was exempt from the labeling requirement, but was subject to the destination country regulations. It was common practice to equip packaging with transport documents and technical data sheets on composition during the logistics phase before exportation.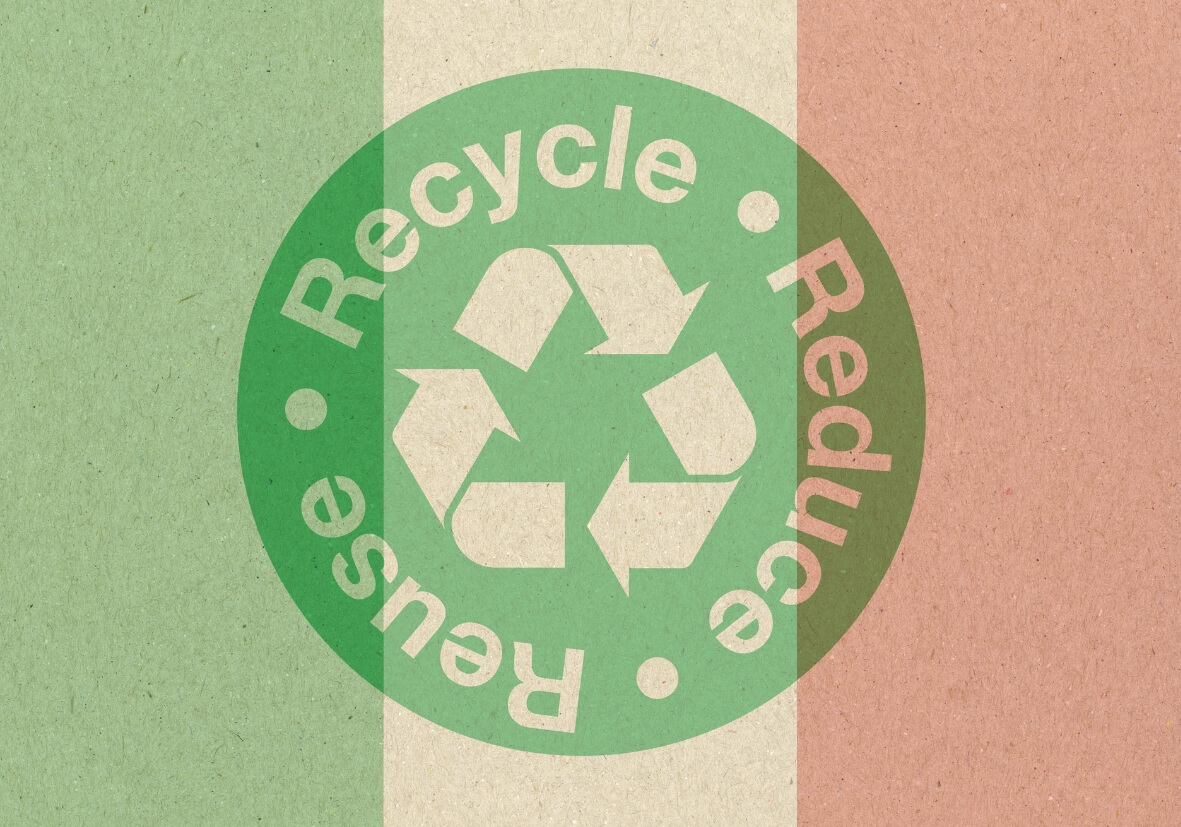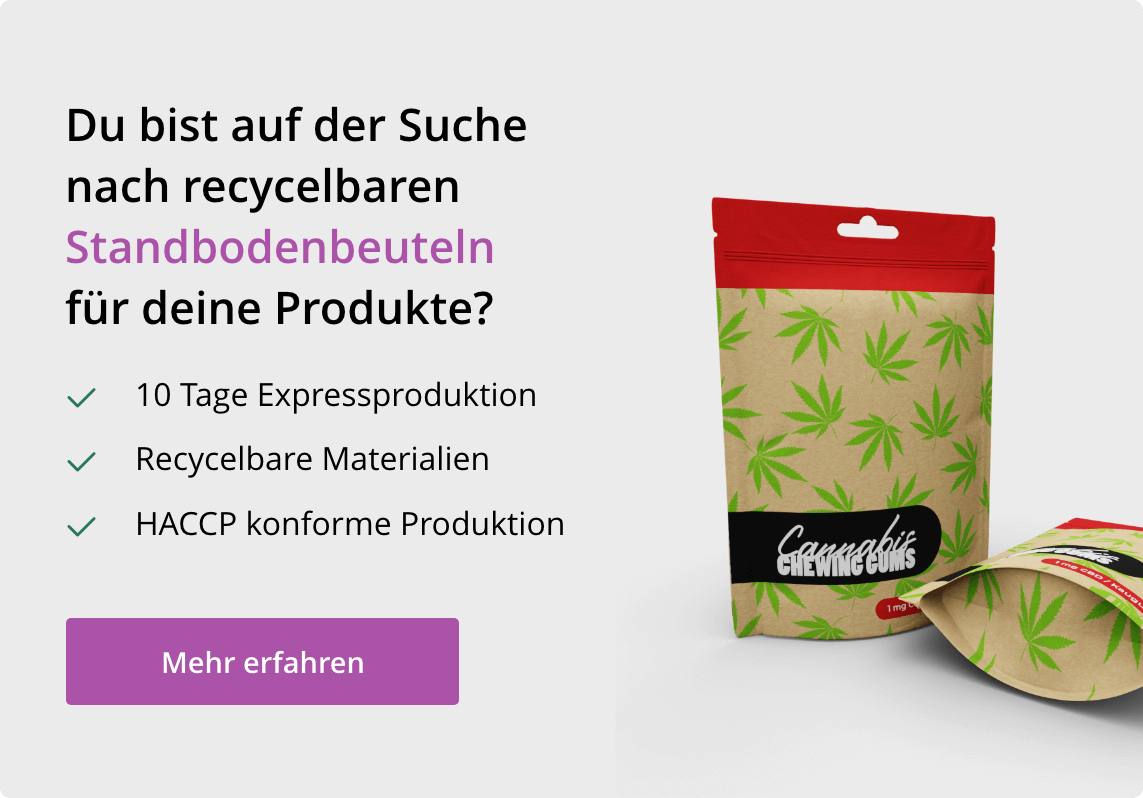 What are the reasons for the new packaging regulation?
All packaging placed on the market in Italy must be marked - in accordance with the methods set out in UNI technical standards and in compliance with EU regulations. Something to make it easier to collect, reuse and recycle packaging and provide consumers with reliable information on the final destination of the packaging. In short, proper environmental labeling for Italy should contribute to effective, efficient environmental protection. After all, packaging and packaging waste pollute the environment and the new decree aims to reduce environmental impacts. Italy is implementing EU Directives 2018/851 and 2018/852 with the legislative decree.
Which types of packaging are covered by the new regulation?
All! EU directives require labeling for all packaging placed on the market - whether primary, secondary or tertiary. Not only manufacturers of industrial packaging must label, but imported packaging is also included: German companies wishing to import packaged goods must ensure the appropriate environmental labeling for Italy. Specifically, the term packaging extends to "products made of any substance" for the containment, protection, handling, delivery and presentation of goods. These range "from raw materials to processed products" and are passed from the manufacturer to users or consumers. Also of interest here: disposable articles used for the same purpose are also classified as packaging. Not all packaging is packaging by any means. For example, envelopes or natural sausage skins are not subject to the eco-labeling for Italy because they are not packaging. What all counts as packaging? A look at the website of CONAI ´ brings clarity.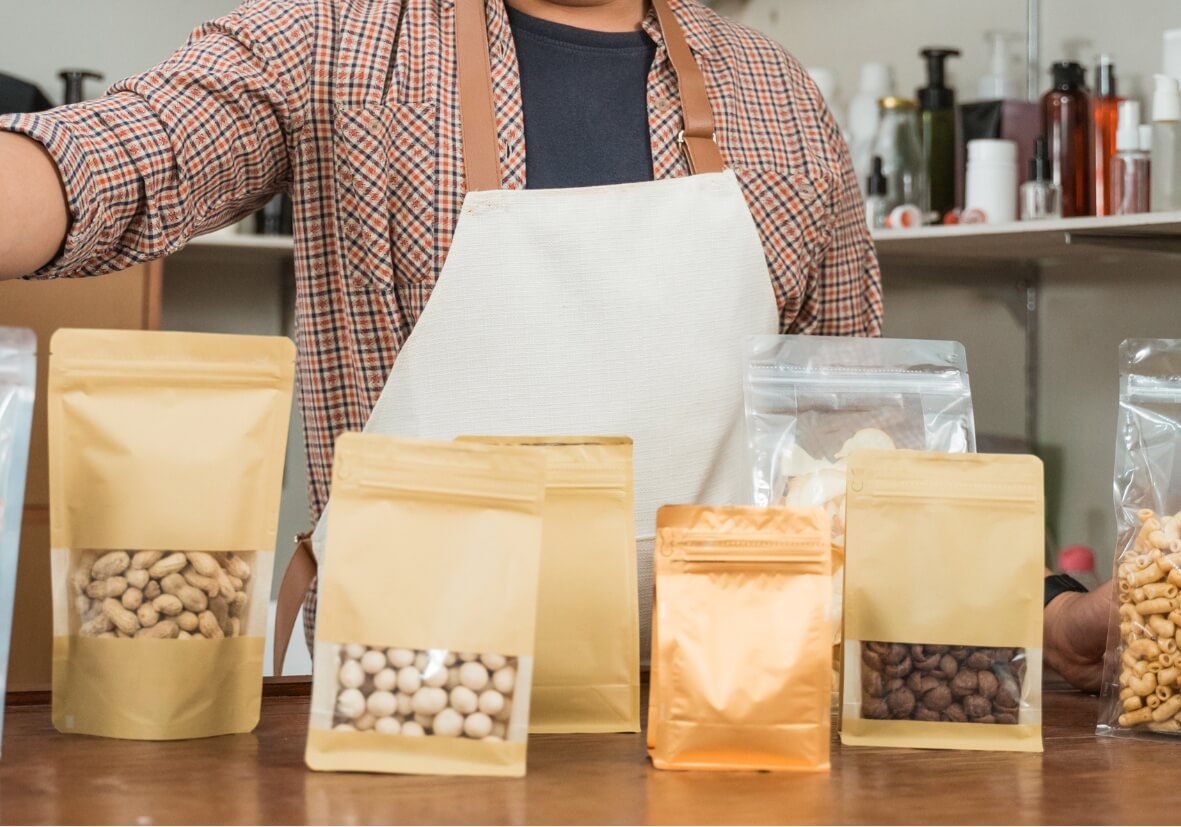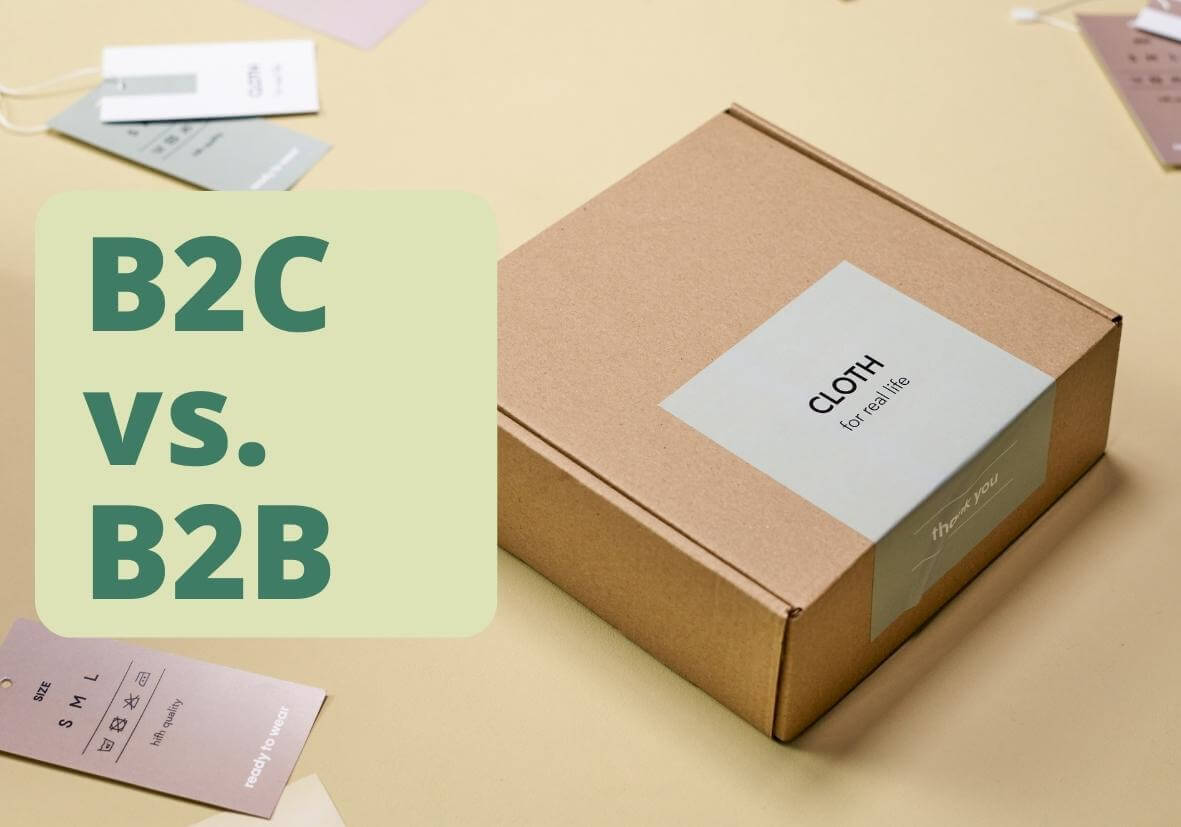 How must the labeling on the packaging be structured?
Whether B2B (commercial) or B2C (household), packaging shows without distinction the alphanumeric code that allows identification of the packaging material. But the information for proper disposal differs:

Only B2C packaging for end customers must show consumer information on separate collection and proper disposal of packaging waste. The information is required for each manually separable component. According to CONAI guidelines, the actual labeling does not follow the type of packaging, but depends on the distribution channel (B2B or B2C).

On B2B packaging, the code of the material according to 129/97/EC must be indicated for each manually separable component. Further information - such as on separation and disposal - is voluntary here. This is different for B2C packaging, where according to Art. 219, Para. 5, mandatory information on waste disposal is required for each manually separable component (the above-mentioned).
How do you get the labeling on your packaging?
The new packaging labeling system works with numbers and abbreviations to classify packaging materials of all types, i.e. primary, secondary and tertiary packaging. The German Chemical Industry Association (VCI) supports companies in the implementation for industrial B2B packaging - based on information from the National Packaging Consortium CONAI and the partner association Federchimica. For this purpose, CONAI (Consortio Nazionale Imballagi, national packaging consortium) has developed an interactive online tool called e-tichetta, which helps to create the labels. Not only as a manufacturer of industrial packaging, but also as an online retailer you can register there to create your environmental labels individually (etichetta-conai.com). Unfortunately, this service is so far only in Italian.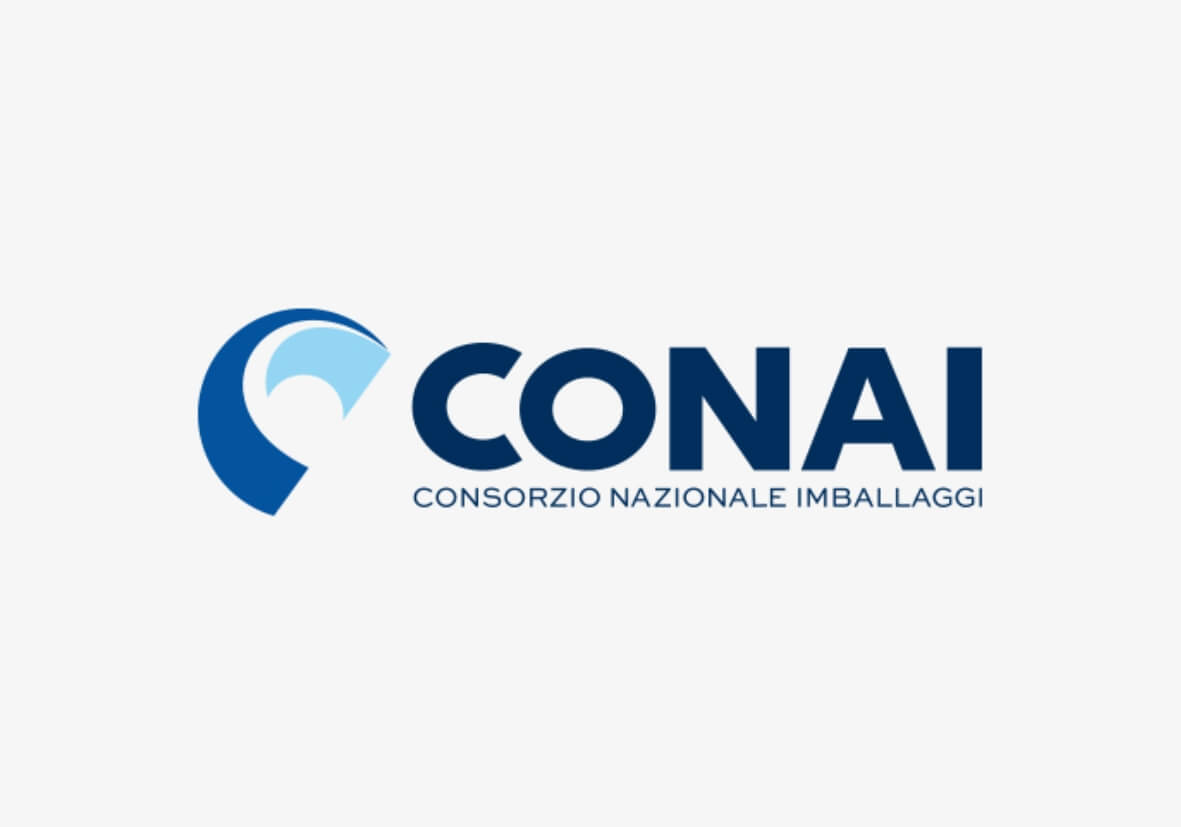 The most important questions about environmental labeling in Italy

What else should be considered when it comes to eco-labeling for Italy?
Answer:
For example, single-material packaging! This is packaging where other materials or secondary materials make up less than 5 percent of the total weight. Something that becomes important where packaging is printed or contains adhesives. Because the labeling must refer to the material that dominates by weight. For each manually separable component, it is mandatory to indicate the code of the material. But what if a package is too small to provide it with info on each material it contains? Then you can alternatively provide the main area of the packaging with the identification code. In special cases, there may also be factual physical and/or technological limitations to applying the environmental label. Then you may also transmit the necessary information digitally. If this is also not possible, transmission via the website of companies and/or vendors is also permitted.

What types of packaging does this apply to?
Answer:
multilingual packaging

neutral packaging, such as packaging for transport and/or

semi-finished packaging

single-use packaging of variable weight, used at fresh food counters or in the catering industry (for food)

packaging whose largest surface area is less than 25 cm².
There are no regulations for the graphics, color, size and shape of the environmental label. The crucial thing when using a QR code or a digital channel is that you make it clear to the consumer what the symbol refers to - information on correct waste collection.


What to do with finished packaging?
Answer:
As a company, you may still use up such packaging. Non-compliant products or packaging produced by December 31, 2022, or placed on the market or labeled on January 1, 2023, may be marketed until stocks are exhausted. So you don't have to relabel packaging in circulation. But once your stock is used up, that's it!

Who is responsible for environmental labeling for Italy?
Answer:
The manufacturer of the packaging is obliged to define the content of the environmental label, especially the alphanumeric code according to 129/97, which indicates the material of the packaging. He must provide this information in the manner previously agreed with the customer.


Who is obliged to implement the eco-label for Italy?
Answer:
In the environmental labeling for Italy are in the duty:
manufacturers, processors and importers of empty packaging and packaging materials

online retailers and distributors supplying to Italy

business operators responsible for bottling

packaging users

importers of filled packaging

Physically affixing a label for environmentally conscious handling to the packaging is therefore a joint task - of the manufacturer and the filler or distributor. This responsibility can be regulated by means of business, contractual agreements. In this way, it is clearly defined where and when those involved in a supply chain perform this task.

What can happen with insufficient labeling?
Answer:
If the packaging placed on the Italian domestic market does not meet the requirements, administrative penalties may be imposed. If the environmental labeling for Italy is missing or incorrect, fines of 5,200 to 40,000 euros can be imposed according to Art. 261, Para. 3. As an economic operator involved, you hereby belong to the circle of actors who may be liable to prosecution.