How to get your free folding box template
05.04.2023 |
Lasse Harder
| Marketing
With our folding boxes you get a flexible packaging solution in top quality. You benefit from our intelligent configurator, which is available for all our products. This guarantees you the greatest possible individuality when planning your folding box. In this way, you create truly unique products that are specifically tailored to your packaging goods and your company.
With an individual print of your product design and with the help of various finishes, you also ensure more attention and reach. Our extra service for you: You can download your folding box template free of charge in our configurator - completely independent of the actual order!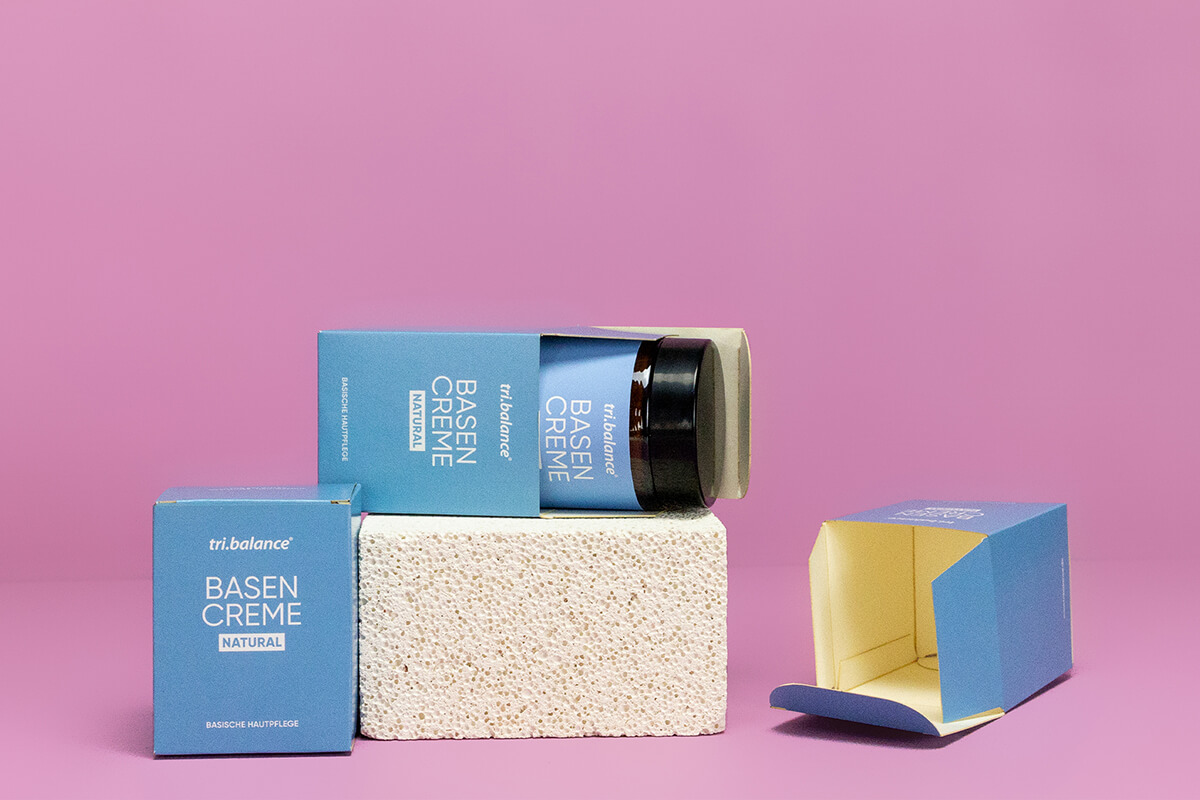 That's why the folding box template is so important for a perfect end result
With the intelligent configurator, packing warehouse provides you with a wide range of customization options. In addition to size and material, you also determine:
the equipment features (crash lock base or snap lock base, tuck-in flaps, Euro slot hanger, etc.)
the color of the inside and outside printing
the type of coating (protective varnish or protective laminate)
the production time
and the type of die-cutting.
Through your individual specifications, you set the parameters for printing and production at the same time. The desired size will correspond to the die-cutting contours. These ultimately determine the final format of your folding boxes. We adhere 100 percent to your specifications. Our experts only make minimal adjustments to the die-cutting template - depending on the material and internal dimensions selected.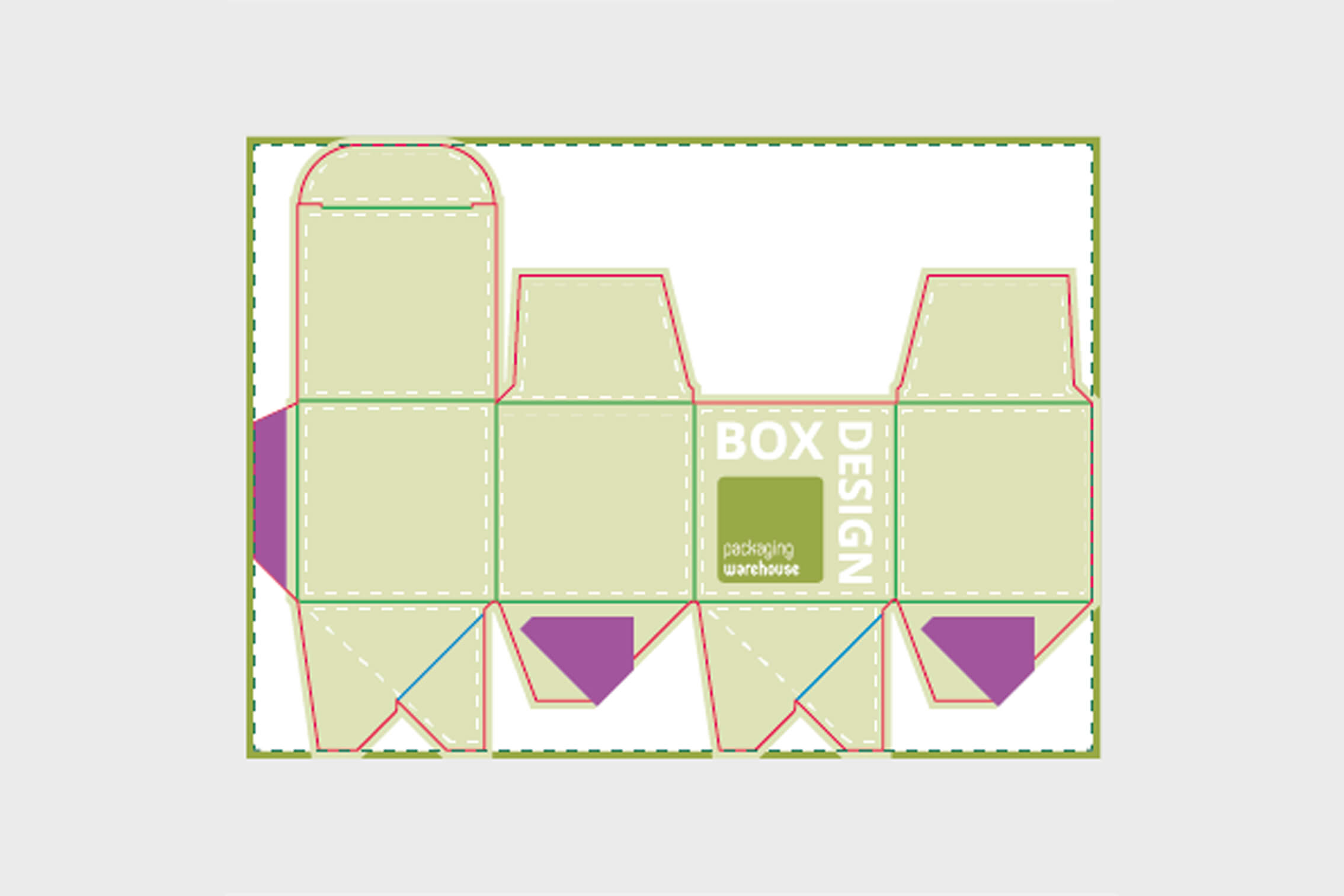 Different material thicknesses provide for different templates
This adjustment is necessary because materials have different thickness. All configurable dimensions refer to the inner dimension of the package. The thicker the material for your folding box, the more the outer dimensions shift outward. This becomes particularly clear when you look at the different material thicknesses for cardboard with E flute and a solution with EB flute.
The thicker and so particularly strong and stable EB variant, which is made up of two types of corrugation, has a larger displacement. This automatically increases the size of the template. The displacement of the E flute, on the other hand, is comparatively low, so that the original does not increase to this extent. Despite identical internal dimensions, two completely different printing templates are therefore created.

Get your folding box template free and fast with us

As a user-friendly and customer-oriented company, packaging warehouse has always stood for simple and fast handling of order processes and the associated procedures. You will also benefit from this in this case. To receive your folding box template free of charge by e-mail, just four steps are required.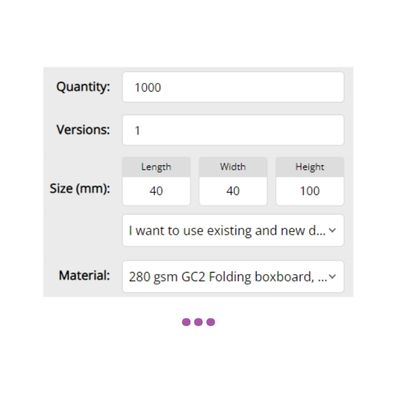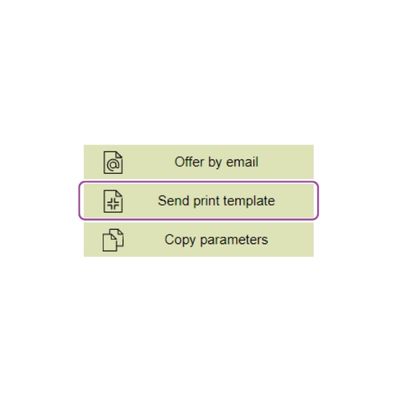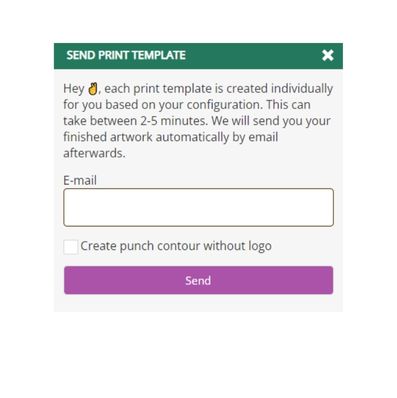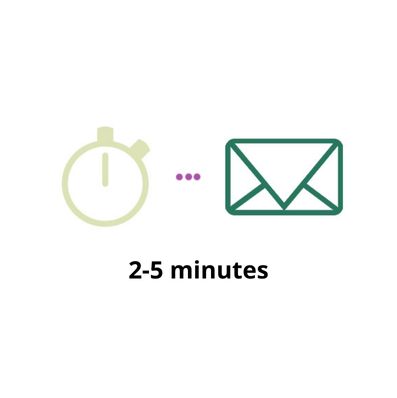 1. step
Create your desired packaging with the help of our intelligent configurator. Enter all your desired parameters and design your individual folding box or, for example, a shipping box.
2. step
If you are satisfied with all parameters, click on the button "Send print template". You will usually find this button directly to the right of the input fields in the configurator.
3. step
By clicking on the button a new window will open. Enter your e-mail address in the field provided and we will send you your folding box template free of charge.
4. step
Our system generates the file with your individual die cutting contours in 2-5 minutes. Afterwards, the artwork or the die-cutting contour is automatically sent to your personal email inbox.

Folding box templates - optimized for our manufacturing processes and materials
After we have sent you your free folding box template, you can open the file immediately and view the result. If something doesn't fit or you have special requests for changes, simply change the parameters in the configurator or contact us directly. Of course, you will not only receive templates for folding boxes from us, but also for stand-up pouches and labels – and always absolutely free of charge, fast and independent of an order.
Even if your folding box template is free, you should use it only for products from our portfolio. There is a simple reason for this: the templates we generate are optimized for the materials and manufacturing processes we use. If you use them as a template for other competitors, we naturally assume no liability for errors and other problems.