Pantone spot colors - what is that?
19.06.2023 |
Lasse Harder
| Packaging

Pantone colors and their advantages for your bran
d
Pantone's spot colors are colors that are not found in the typical color spectrum. They are usually produced for special occasions or customer requests. If you're looking for a very specific color, you should take a closer look at Pantone's spot colors. Pantone is a world leader in the color industry. For years, Pantone has been producing spot colors that are not found in the typical color spectrum (Pantone Matching System). These special colors are usually produced for special occasions or customer requests. This is also the case, for example, for Milka chocolate from the Mondelēz company. So if you're looking for a very specific color, you should take a closer look at Pantone's color palette.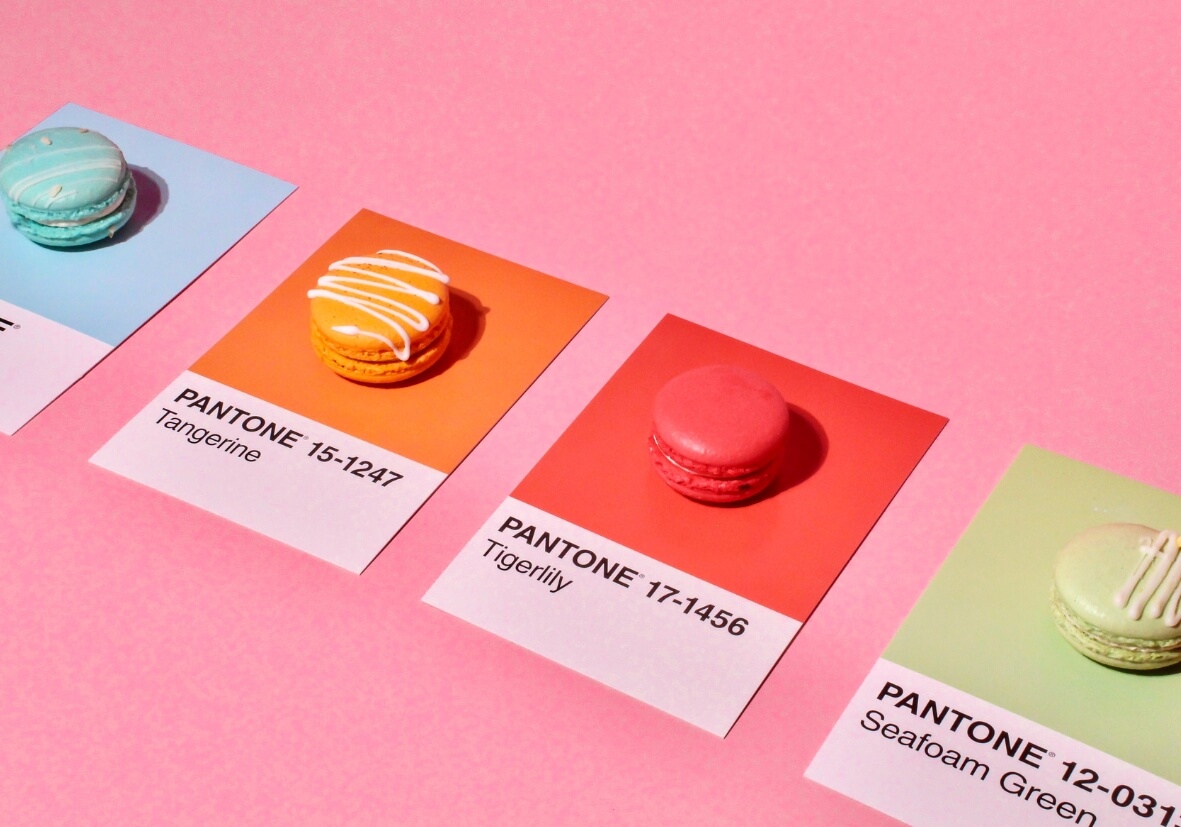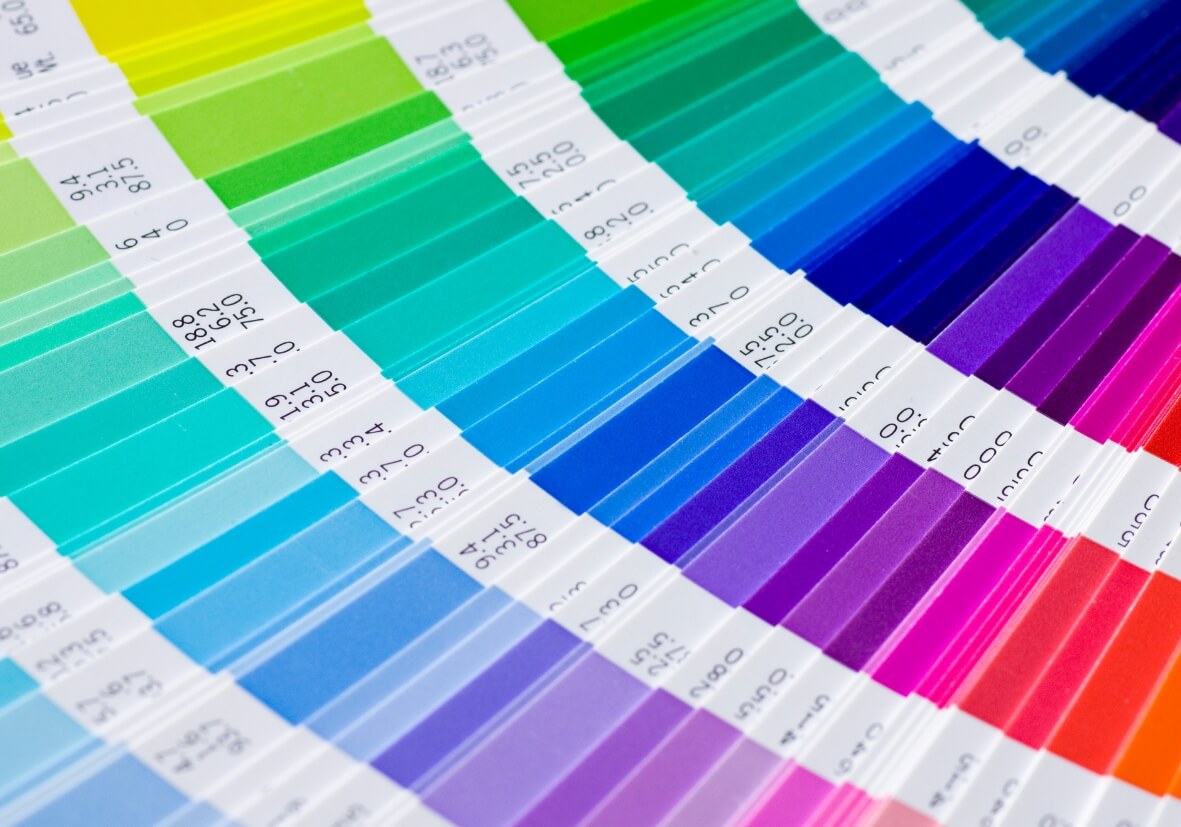 Which company is behind "Pantone"?
Pantone Inc. has been in business for over 50 years and has established itself as one of the world's leading companies in the color industry. The company produces both standard and spot colors and is best known for choosing a new "Color of the Year" each year. The most popular Pantone colors usually go viral and are used in all areas of life - from fashion design to interior design. Even cosmetics manufacturers often use the trendy shades for their product lines - just think of Essie's "Wicked" or MAC's "Viva Glam Rihanna" Lipstick . Basically, there is no area where the influence of Pantone colors is not felt!
What are the Pantone spot colors?
Pantone colors are a special color scale developed by Pantone Inc. This color scale is used by many printers and designers to ensure that all colors are consistent. The Pantone color scale consists of nearly 5000 different shades, all of which have a unique numerical designation. Most of these shades come in a variety of hues, so you can find just the right color for your design.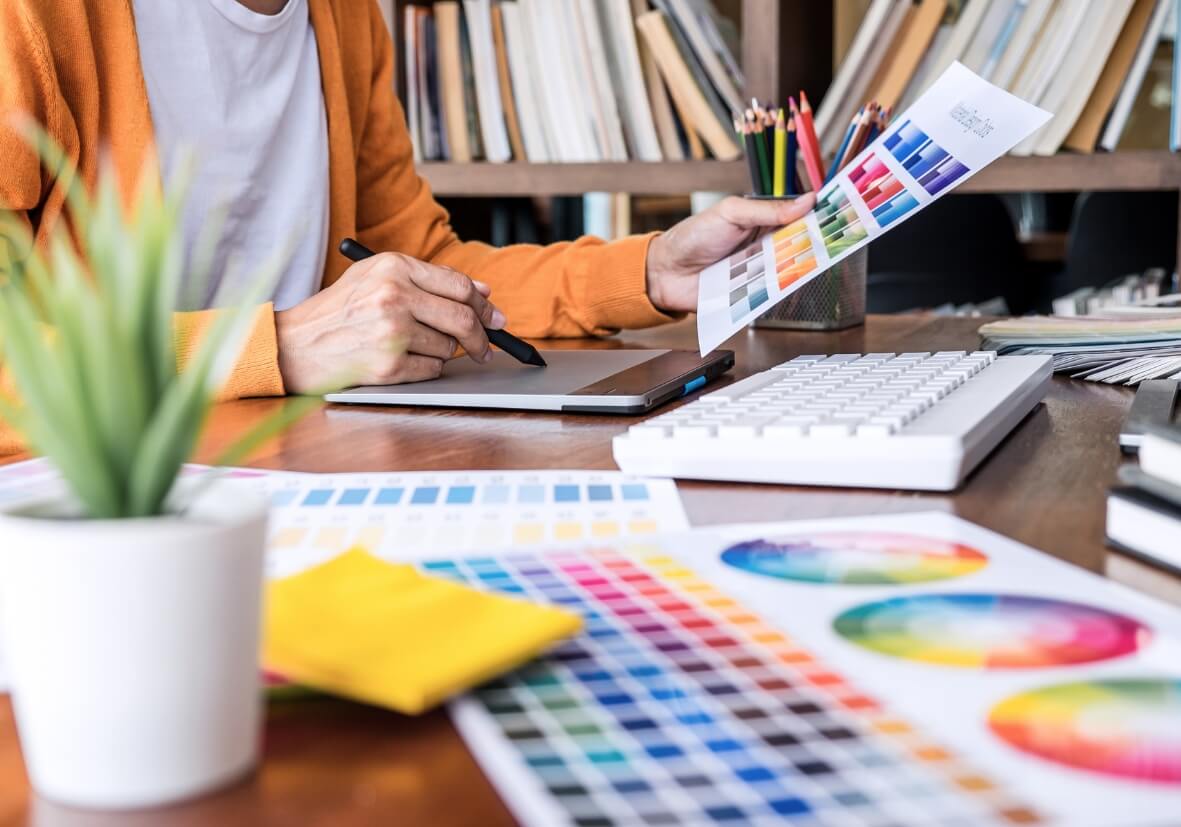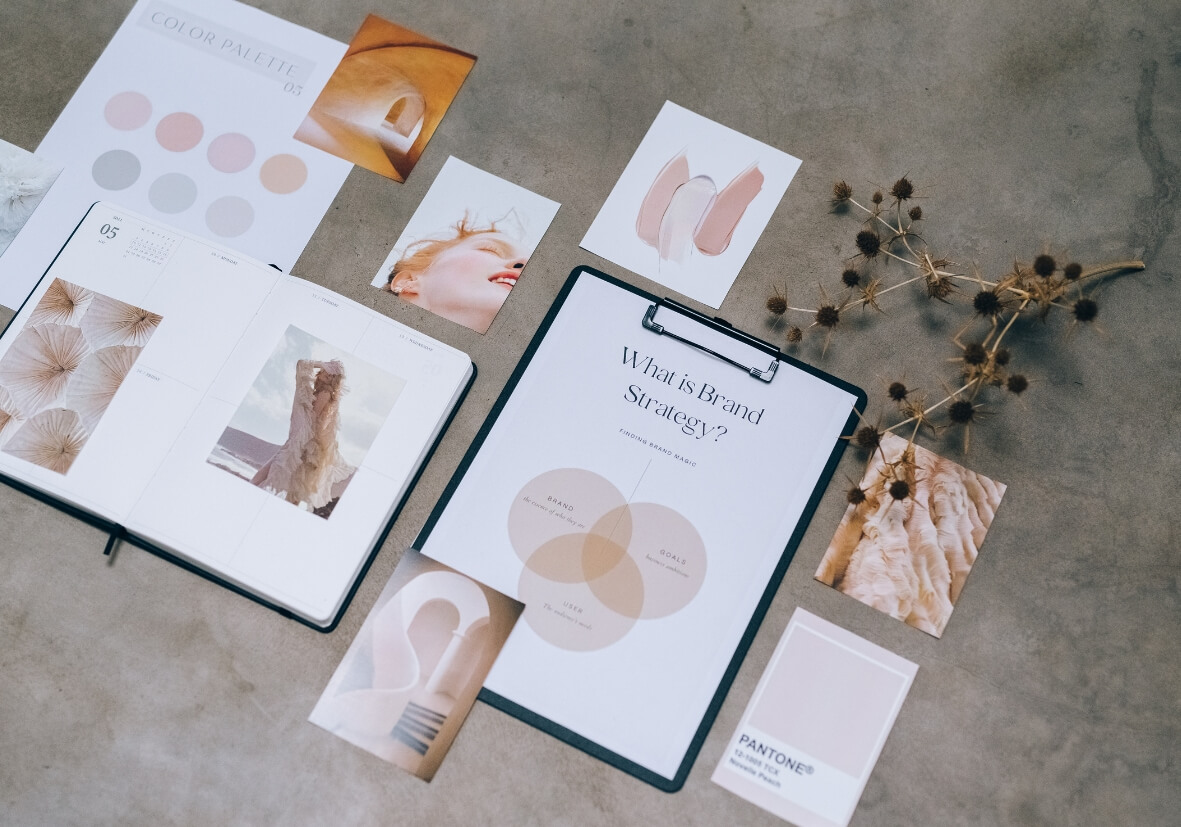 What are the advantages of Pantone colors?
Pantone colors offer several advantages over other colors in printed products. For one, the colors are very consistent and can be easily reproduced from one printer to another. In addition, Pantone inks offer high color saturation, which ensures a vivid and high-contrast printed image. All advantages at a glance:
Globally used and recognized standard in the printing and packaging industry.
Wide selection from over 5000 color shades. Including neon and metallic effects.
Consistent brand image across many service providers and print products.
Uniform color fan that ensures consistent communication between you and the print shop.

Printing Pantone colors - this is how it works!
For which print products Pantone colors are suitable?
Pantone colors are suitable for many different print products. For example, they can be used for flyers, posters, brochures and other promotional materials. Pantone colors are also ideal for designing business cards, stationery and invitation cards. Its use is particularly recommended when different print products are purchased from different service providers. However, it is important to note that the same Pantone color can have a different effect on different surfaces. For example, a Pantone color always has a different effect on a smooth plastic surface than on an untreated paper surface.

Also suitable for packaging such as:
roll labels
flexible packaging
package inserts
laminate tubes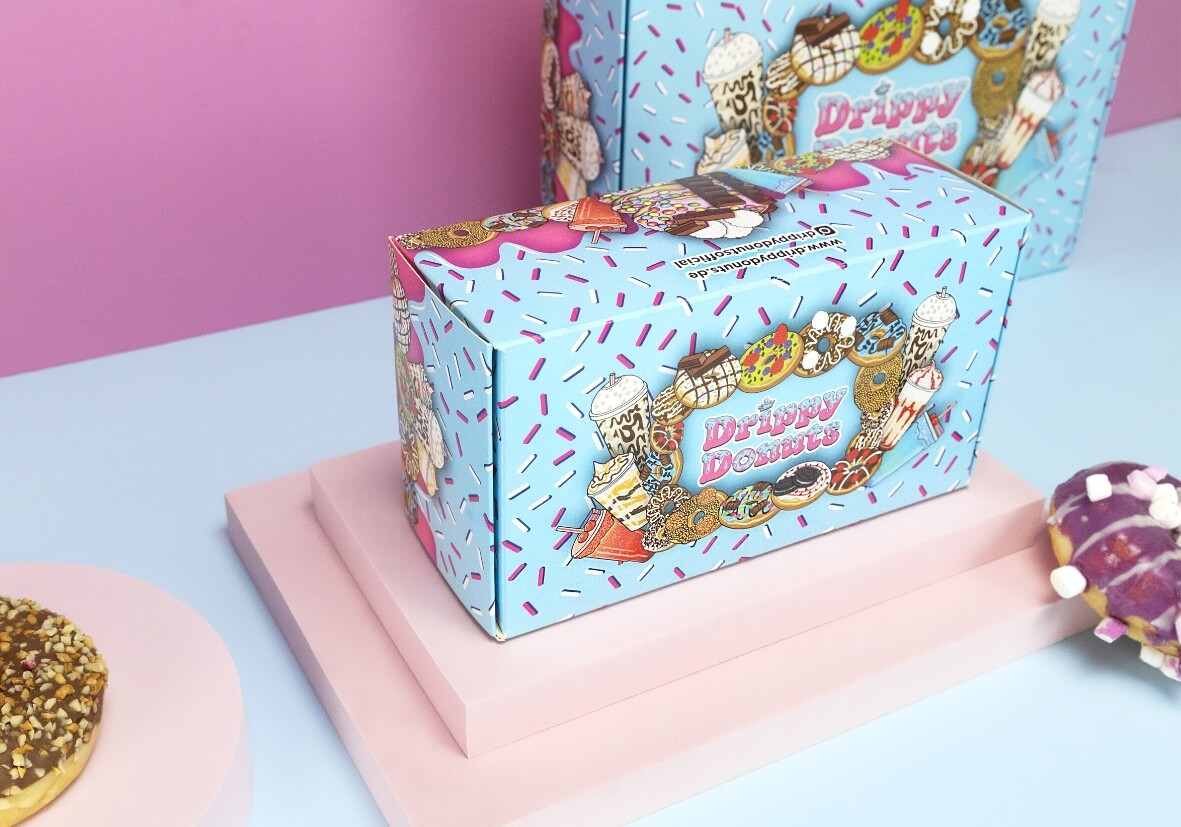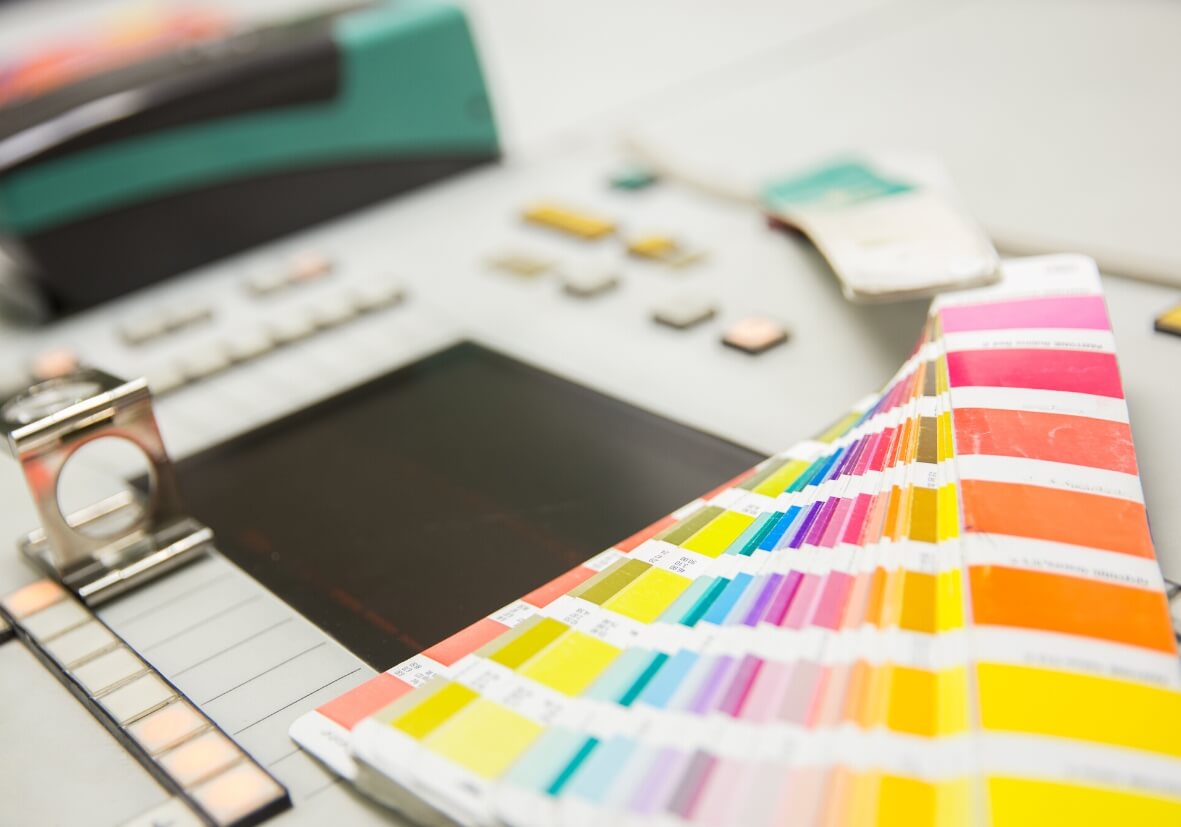 What is the difference between Pantone and CMYK printing?
Four-color printing (CMYK) is the most common type of printing and is often used for the production of catalogs, newspapers and brochures. In this process, each of the four printing colors (cyan, magenta, yellow and black) is applied individually to the paper. The colors are combined to create a realistic color image to the viewer's eyes.

Pantone colors, on the other hand, are special colors that can only be produced with two or three of the four printing inks. These colors are often used for printing advertising and packaging materials, as a corporate identity usually has to be maintained here. This means that the color must appear uniform across many print products worldwide. Deviations are not desired.
Pantone colors in digital printing - is that possible?
Pantone colors can be used in digital printing, but there are some limitations regarding the quality of the result. Pantone spot colors can not simply be used in industrial digital presses. Digital presses always work in the CMYK or Hexachrome (CMYK + orange + green) color space. The desired spot colors are then "simulated" via these color spaces. An attempt is therefore made to approximate the desired result via this color space. The following variables influence the result of the simulation:

Pantone color - depending on the type and shade of the spot color, it is more or less complex to simulate the desired pantone value.
Material - depending on the material surface and texture, the result may differ.
Printing technology - the result differs depending on the printing technology used. A distinction is mainly made between inkjet printing and HP Indigo printing.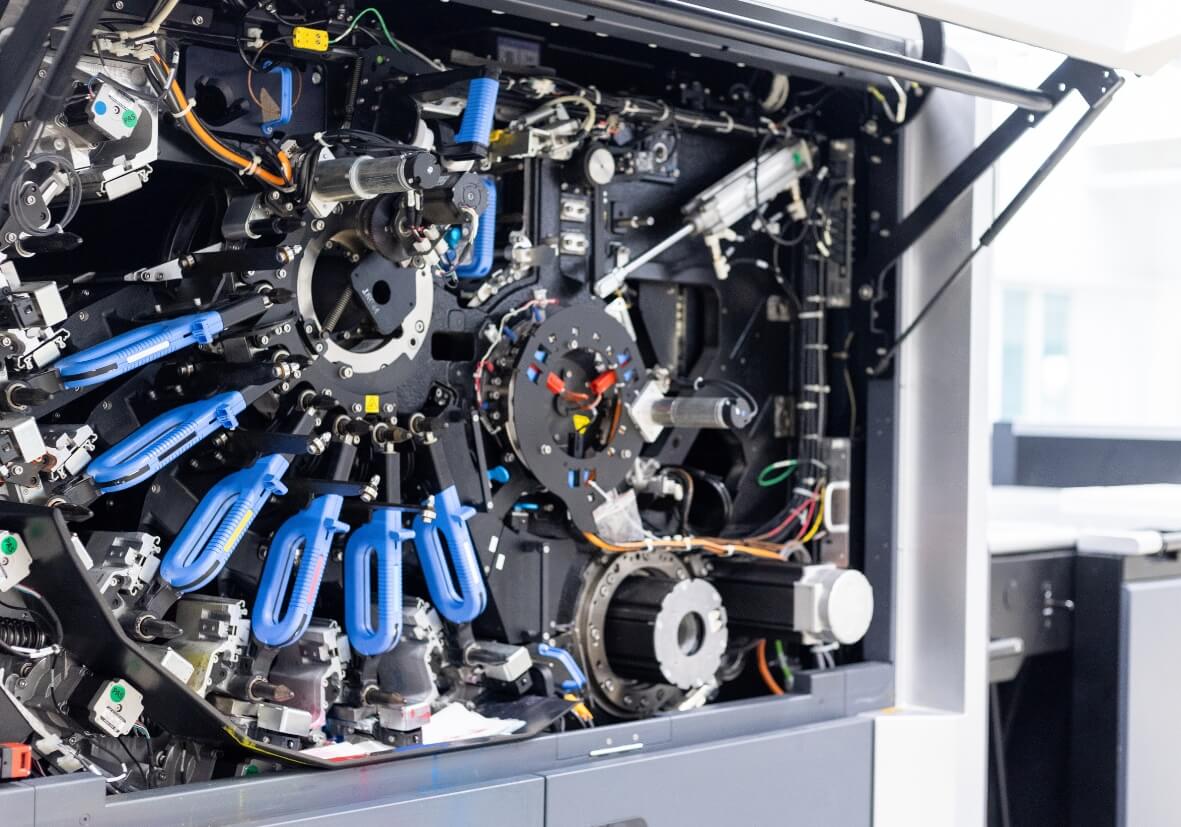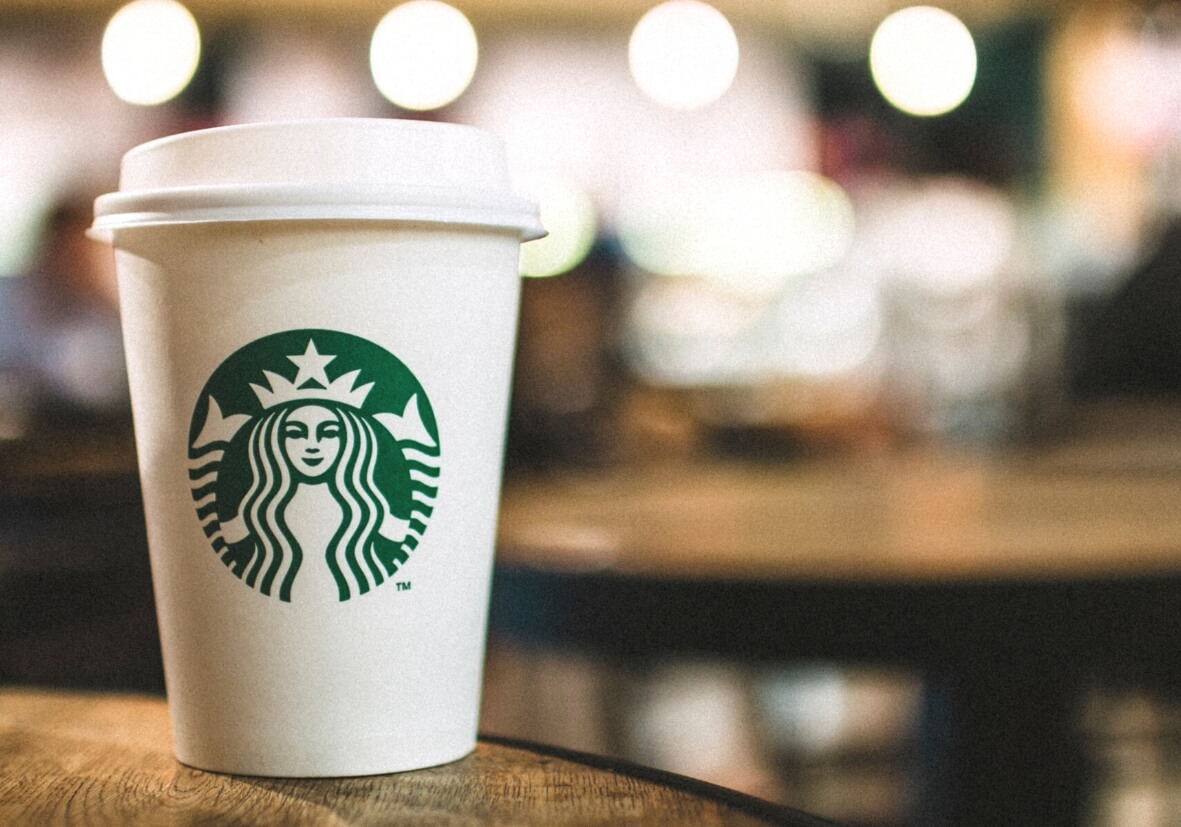 Which Pantone colors are available?
In total, there are over 5000 different Pantone colors whose basis was formerly 14 and is now 18 basic colors. The recognized system for special colors is internationally recognized and is used by many well-known brands:

Nivea - 280 C
Puma - 485 C
Lufthansa - 1235 C
Starbucks - 3425 C
McDonalds - 123 C
Subway - 2426 C
Google - 660 C
A distinction is always made between the suffix "C", "U" and "M". The C stands for "coated" and the U for "uncoated". Depending on the color, a distinction is made between whether the material surface is coated or uncoated (coated / uncoated). The M means that the surface of the substrate is matt coated.